19th Annual Corvette Charity Lottery
2019 Chevrolet Corvette Stingray Coupe
Only 2,000 tickets printed
Only $100 per ticket
All Proceeds to Charities in Simcoe County
AGCO lottery licence #9829
Actual Prize Vehicle shown
Rotary Club of Wasaga Beach
Early Bird Prize Draw
The Early Bird Prize Draw took place on July 3, 2018 at the Wasaga Beach Home Hardware store.
Congratulations: The winner of the Early Bird Prize is:
Ticket #0830 held by Shari McKilligan of Wasaga Beach, Ontario.
Shari wins $1,000 cash.
Main Price Draw
The main prize draw of the 2019 Chevrolet Corvette Stingray will take place on
September 29, 2018 at the
RecPlex,
1724 Mosley Street,
Wasaga Beach, ON
2:00pm
Everybody is welcome to attend!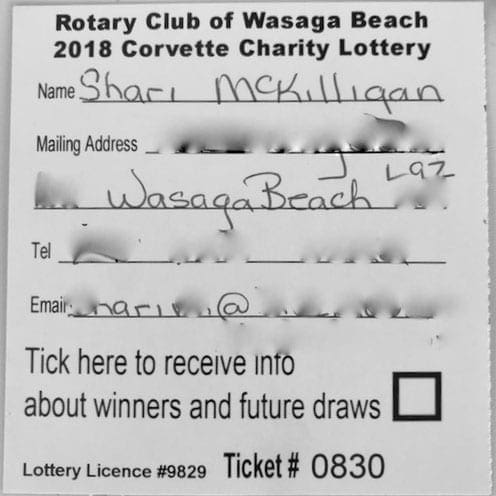 Ticket stub of $1,000 Early Bird Prize Winner
Volunteers of the Rotary Club of Wasaga Beach hard at work, selling Corvette Charity Lottery tickets at various high profile events in Ontario:
About Us
The Corvette Lottery is a fundraising project of:
Rotary Club of Wasaga Beach
P.O. Box 434
Wasaga Beach, ON
L9Z 1A4
Canada
Committee
Corvette Lottery Committee Chairmen:
Dr. Peter Wilson (Co-Chair)
Todd Young (Co-Chair)
Email | Please use contact form